For international shipments call us on 01884 230888 for a quote if your order will weigh over 2kg.
Qualified Naturopath is owned and operated by Kevin Wright. I hold 11 S.N.H.S. diplomas all at distinction pass level in Anatomy and Physiology, Holistic Nutrition, Advanced Nutrition, Herbalism, Advanced Herbalism, Homeopathy, Flower Remedies, C.B.T. Stress Management, Advanced Stress Management and Hypnotherapy. We also have a consultant Registered General Nurse within the practice. We provide consultations, treatments together with our own natural health and nutrition products to our clients. This broad knowledge enables us to assess a diverse range of health problems using our combined experience of many different, yet integrated perspectives. We are registered members of the International Institute of Complementary Therapists and the International College of Holistic Medicine. We hold professional indemnity insurance in the sum of £5 million covering product liability and malpractice.

Please do not hesitate to contact us by telephone on 01884 230888 or e mail for an initial one to one consultation regarding your health or the use of any of our products, free of charge.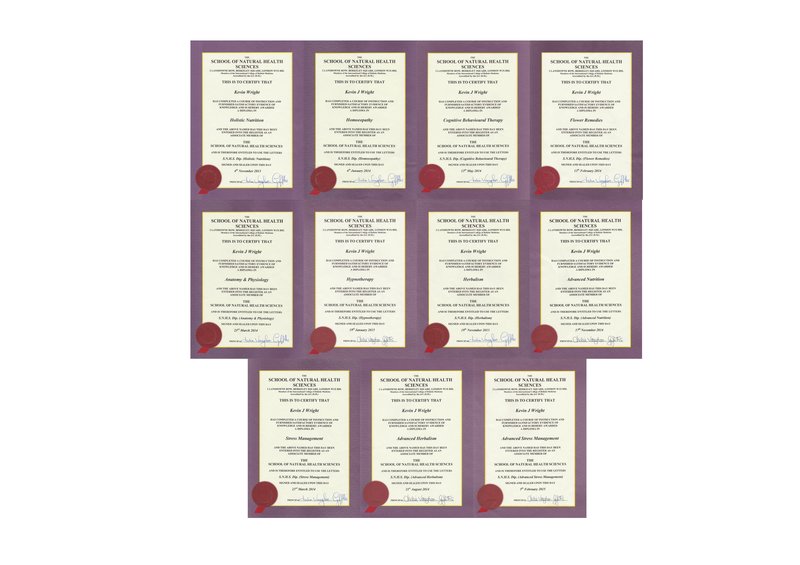 There is much on line concerning my conviction for theft and fraud in 2013, as usual the media have misreported and exaggerated the facts of exactly what happened.
Firstly, the money I was convicted of stealing from 2 kids charities were unconditional grants, gifts, of £30k each, applied for by me to help with the cost of my sons neuroblastoma treatment abroad as there was no cure offered here. The money was gifted to help with the huge treatment costs at MSKCC who I had to pay $250,000 to before they would even see me on my own, never mind with my son. Once I had been there I knew my son wouldn't be treated there. At that point I should have changed the stated aims of the fundraising. But would the general population have been so supportive of integrated treatment over straight up allopathic treatment in "proper" hospitals? I just couldn't take the chance and risk not raising the money I needed to save my son. I wasn't prepared to take the chance. Would you?
 I was convicted on the basis that representatives of the Janet Nash trust and Cauldwell Children who gave evidence in person at the trial did not grant the money for "quack" treatments such as whole body hyperthermia, auto haemotherapy with ozone, Vitamin C, mistletoe, and lots of other infusions and nontoxic treatments  many provided at the Hufeland clinic which cost £8000 a week plus living expenses for several  weeks,  an ozone sauna set up, a home hyperbaric oxygen chamber, huge amounts of private testing, Perl devices from Resonant Light technology in Canada, email them and ask how many I bought over 5 years, it was 26 of them at £5k each. Why did I buy so many? I saw with my own eyes how beneficial my son's device was to him so I bought and donated them to families of other neuroblastoma children. Not just in the UK but as far afield as the USA and Australia.  All the money that paid for this was considered stolen by the prosecution.
The fix was in on my trial before it began, I just didn't realise at the time. The local media had printed some awful stuff about me before the trial which of course also went online for the jury to see before my trial ended. Ask yourself, if you were on the jury of a trial lasting 6 weeks, would you be able to not google the defendant despite the judge telling you not to? How would the judge find out if you did? The media didn't though mention the 5 figure out of court settlement that Northcliffe media paid me for libelling me. Good fun though - Ian and I pretending to be barristers at the RCJ as litigants in person. I wasn't about to spend fund money on fucking lawyers.
The prosecution produced as evidence thousands of pages of financial information, graphs, flow charts and the like which were very difficult to understand and due to the complexity and volume of the financial "evidence" it was impossible to challenge. The jury were given a route to verdict by the judge that could only lead to my conviction.
Remember, I pleaded not guilty to all charges as did my wife, we are blissfully happy, if I were the ruthless thief  the media have portrayed me as surely she would have divorced me when I was  in prison, not visit me at every single opportunity?  She was also charged to apply pressure to me. She was acquitted of all charges, I was found not guilty of 9 of the charges made against me.
With hindsight my defence barrister was against me, after all, I had been advising oncology parents to question everything concerning their kid's treatment.  I subsequently discovered that one of his children had been very ill and he was a big fan of the NHS. I would like to ask you if we should have blind faith in and give total abdication of parental responsibility to doctors who advise that reformed ham sandwiches with jam sponge and custard from a food service company, heated by microwave oven, Mcdonalds, ready meals and chocolate bars are no problem? Let them eat what they want is the mantra in the NHS.
I suggested to all parents that they obtain copies of their child's medical records with regular updates as I feel the doctors are less likely to make errors if the parents have the documentary evidence to prove it and would also be able to seek treatment elsewhere if necessary. I didn't fully understand that "they" could not possibly allow me to continue destroying trust in kid's doctors and allopathic treatment in general. After all, it was integrated treatment that had saved my sons life.
 My FB page has numerous  very positive posts and comments from other oncology parents, especially on  4th Oct '13 when I was sent to prison, thanking me for free veg boxes for juicing, testing of kids for nutritional status, gut function and much more absolutely free of charge, paid out of the money  I, Ian Weir and Frazer Gall, my most excellent wing men at the time, worked very hard indeed to raise by setting up, recruiting for and running 60 phone call centres selling draw tickets over the phone which I must say was wildly successful, £2.8 million successful  but of course staff must be paid, phone companies don't give free phone lines and office landlords need to be paid along with everyone else which was all counted as money that I stole.
I invested fund money into an organic cooked from scratch restaurant, and I also invested fund money into a pub on the main tourist route into Devon, again, all food from scratch and organic, profits were used to support other kids as well as my son was. We put a large unique play area into a previously empty beer garden, kids need exercise, it's essential to vibrant health. There was free fruit juice for kids but depressingly most parents still bought their kids coke etc.  Nutrition was a major part of my son's recovery; we still juice every day and eat nothing from a tin, jar, carton or packet 15 years later. I also put £30k into the stock of used cars at my very good trusted friend's garage. The fund received £100 from every car sold, some weeks it came to over £1000 return on investment.
I could have simply changed my name by deed poll when released from goal but why should I? I did nothing wrong in spirit, all those around me at the time know this.
To me, when your child develops cancer it is like being dealt a hand in the highest stakes poker game imaginable. You can, when all is said and done, only play the hand you have been dealt to the best of your ability. If our medical team hadn't misdiagnosed Bob for so long, tried to feed him utter shit while in hospital or hadn't told me not to look on the internet, "it will only confuse you" or the other statements they made that completely destroyed my confidence in them from the get go I may well have trusted their platitudes. And of course if I hadn't been able to raise the 7 figure sum I needed to cover all treatment options which removed the greatest obstacle for most, money. I was able to employ everyone needed to do it, a housekeeper, nanny, teacher, wife (maybe she should be first?) 2 full time researchers, the equipment, the trips to clinics around the world for research and treatment while not having to work on anything else for 3 years. So, to those who bought the draw tickets, there is a fine young man here who without you probably wouldn't be. I salute you, each and every one of you.
Finally, most of us believe ourselves to be a single person, but if you have the time to think deeply about it we are in fact many people, according to all the possibilities of being that are within us. To some people we are one person, to others we are somebody entirely different. There is however the illusion that we are one and the same person with everyone we know and meet. But it's not so. We discover this most categorically when we, by some chance of fate, make a mistake and our perceived personality is left dangling in limbo. We then realise that not every part of us was involved in what we were doing and it would be a dreadful injustice for others to judge us by this one act, as we remain there suspended throughout a lifetime with our entire personality summed up in a single uninterrupted action.
I hope this goes some way to explaining what happened, please feel free to call me on 01884 230888 with any questions whatsoever you may have.